About One Pearl Bank
One Pearl Bank is a new development located right in the heart of the core city centre by Capitaland. The development is the former iconic landmark horse-shoe shaped Pearl Bank Apartments that has successfully been sold to Capitaland through a private treaty agreement. One Pearl Bank represents the unique opportunity to own a prime piece of real estate that is located in the mature town of Outram Park that is located right next to Outram Park MRT Station. A unique city centre living experience awaits you at One Pearl Bank.
The development will consist of 2 curved towers that resembles the horse shoe 38 storeys former Pearl Bank Apartments to preserve the distinctive architecture in the background of Pearl's Hill. One Pearl Bank is slated for completion in 2023 and will be located at the top of Pearl's Hill. One Pearl Bank building will stand at a height of 178m which is one of the tallest residential towers in Singapore surpassing the nearby Pinnacle @ Duxton which stands at 156m. There will be a total of 39 storeys at One Pearl Bank and the development will consist of 774 prime residential units next to Outram MRT Station.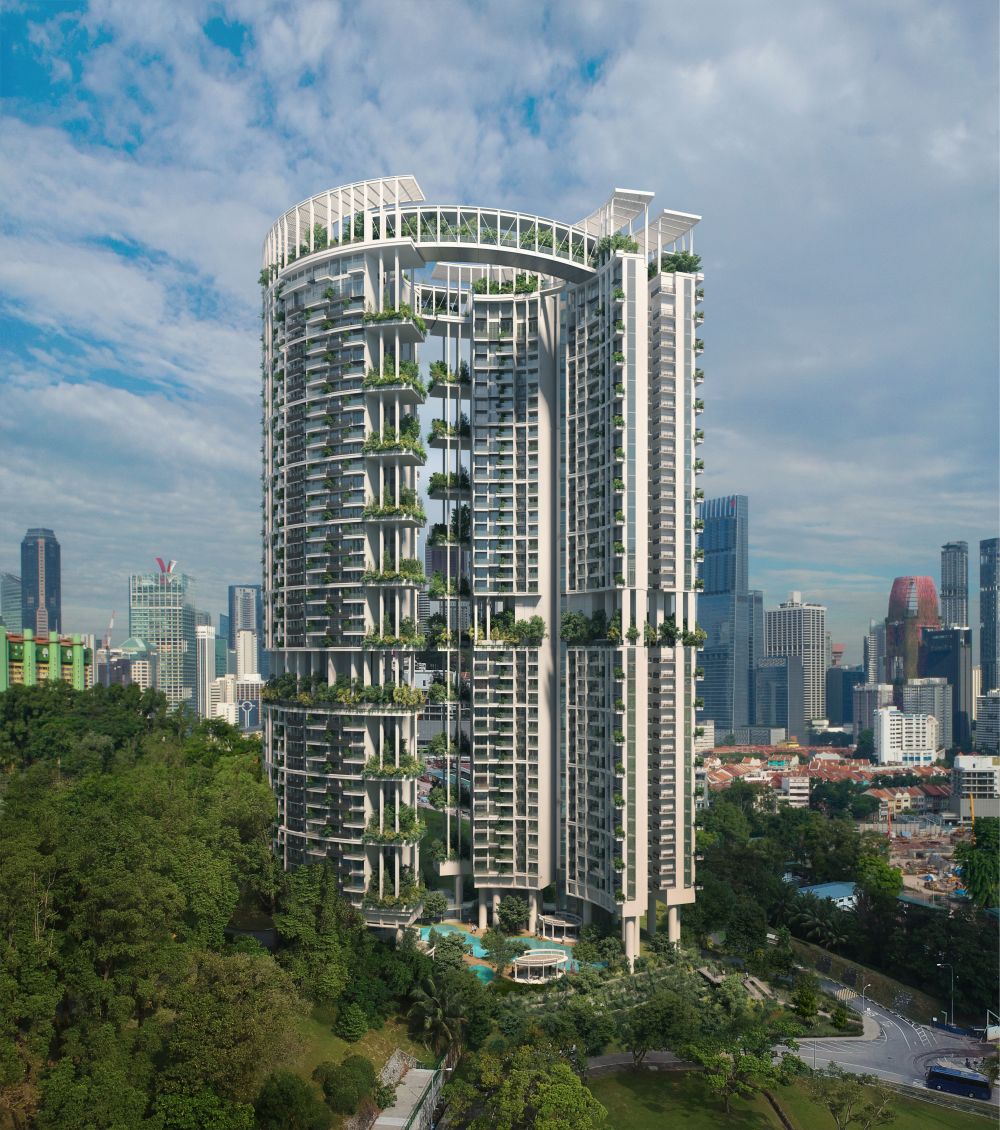 One Pearl Bank Capitaland
One Pearl Bank has full and unique facilities, which includes a guard house, clubhouse, function room, indoor gym, tennis court, 50m swimming pool, sun deck, BBQ pits & children's playground. The condo's facilities provide full family entertainment needs for your family and loved ones. Indulge in a serene and tranquil lifestyle right in the heart of Outram Park. One Pearl Bank psf and pricing details will be available soon. One Pearl Bank consist of welcoming spaces where one's care simply melt away. A home where Hygge unlocks the comforn and calm of the living spaces within to help you live well.
Using a private treaty with a collective cost of up to S$728, CapitaLand Limited has acquired the Pearl Bank Apartments at a total land price of S$1,515 per sq ft per gross floor area. One Pearl Bank has a 99-year leasehold sits on an area that measures 82, 378 sq. ft. The former Pearl Bank Apartments is located in Outram Park, Pearl's Hill. With a massive 7.45 plot ratio, Capitaland intends to redevelop the horse shoe shaped Pearl Bank Apartments and create a residential development of high-rise apartments with almost 800 units. One Pearl Bank showflat will be located near to the site itself and the launch date will be discussed soon. Additionally, One Pearl Bank Outram will have a wide variety of shared and social facilities which will be designed to enhance a sense of community and celebrate the unique cultural heritage of this area.
Unblock Views of One Pearl Bank to Sentosa and Central Business District
There are paranormal unblocked views that extends from Sentosa to CBD from the former Pearl Bank Apartments which consist of 288 units (280 apartments and eight commercial units)where there is an elevated ground of One Pearl Bank Condo which units will enjoy. One Pearl Bank Capitaland will enhance the architectural transformation of the Outram area and the owners strongly support the redevelopment of Pearl Bank Apartments which offers great city fringe coveted address of the worlds which is some steps from Chinatown cultural hubs which have private exclusivity nestled enclaved in some greenery lush of the Peral's hill. One Pearl Bank Capitaland also has some great connectivity which is nearer to the Outram MRT Station that is an interchanged triple line station with two highways that are Central and Ayer Rajah Expressway. The precinct Outram is transformed into healthcare, the wellness, and the research hub in an SGC campus that has a redevelopment plan of about 20 years by the Singhealth group of healthcare.
One Pearl Bank Former Pearl Bank Apartments
One Pearl Bank Condo prime site atop Pearl's Hill in Outram Park is also strategically located with many shopping centres located around in the vicinity. For example, the popular People Park's Complex, Chinatown Point as well as Central Mall at Clarke Quay are located near to One Pearl Bank. One Pearl Bank Condo is also located near to Pearl's Hill City Park where plenty of outdoor families are available for residents to spend some quality time with their family. One Pearl Bank review indicates that there is great demand for this historic site that plays part of Singapore History. This together with the shared facilities at One Pearl Bank Outram MRT Station Capitaland will foster community spirit and celebrate the estate's unique heritage and culture. Beyond its architecture marvel, One Pearl Bank enbloc also consist of adjoining sky bridges that links both towers together on top thereby providing residents with ample space for some fresh air atop Pearl's Hill. One Pearl Bank enbloc is truly a technological marvel that combines elegant living with serene space in the sky.
One Pearl Bank Capitaland is centrally located next to Outram Park MRT Station that serves 3 MRT Lines including the North-East Line, the East-West Line as well as the upcoming Thomson-East Coast Line. Also, for owners who are taking buses, there are several buses available along Eu Tong Seng Street and New Bridge Road. For owners who are traveling to the city, One Pearl Bank is located right next to Central Expressway (CTE).
One Pearl Bank is a brand new 99 years leasehold premium condominium development that is going to be launched soon in Singapore by Capitaland. The new condo will present 774 exclusive residential units comprises studio to penthouses. One Pearl Bank is a redevelopment of the tallest private residential building in Chinatown, Singapore named Pearl Bank Apartments, which was constructed long back in 1976. Capitaland successfully acquires this site and will keep a similar design as an ancestor.
The prime residential project represents a shape like a horseshoe close to Outram MRT Station was sold to Capitaland. It is situated right up the hill, residents will get to enjoy the 360 degrees unblock view of city and nature. The land area of this condominium development is approximately 613,530 sq ft and the expected sale price is around S$1,515psf GFA. One Pearl Bank next to Pearl's Hill City Park is close to several amenities and conveniences to serve future residents.
One Pearl Bank Developers
CapitaLand Ltd is one of the well established and largest real estate developers in Asia. The company was formed back in 2000, Pidemco Land and DBS Land were merged to develop Capitaland Ltd. One Pearl Bank developer has headquartered in and listed in Singapore. Capitaland Ltd has subsidiaries (CapitaRetail China Trust (REIT), CapitaMalls Malaysia Trust (REIT), CapitaCommercial Trust (REIT) (SGX: C38U), Ascott Residence Trust (REIT), CapitaMalls Asia, and more) in 30 countries and 160 cities working successfully around the globe. Their impressive business portfolio comprises residential developments, real estate investment trusts & development, shopping malls and commercial development.
Capitaland Ltd has several award-winning developments in Singapore, Vietnam, Indonesia, and now in China. Some of the groups in which Capitaland Ltd has 59.3% of ownership are CapitaLand Residential Singapore, CapitaValue Homes, CapitaLand Commercial, CapitaLand China Holdings, and Australand. There are committed to developing quality residences to serve different buyers with different needs. Their portfolio includes Cairnhill Nine, D'Leedon, Victoria Park Villas, The Orchard Residences, The Interlace, The Sky Habitat, and many more iconic developments to add on.
Project Details
Project Name

One Pearl Bank

Type
Apartment / Condo
Classification
Condominium
Address
1 Pearl Bank, Singapore 169016
Site Area
82,376sqft
Unit Type

Studio ( 431 sqft ) = 140units

1-Bedroom ( 527 – 570 sqft ) = 175units

2-Bedroom ( 700 – 893 sqft ) = 280units

3-Bedroom ( 1,098 – 1,281 sqft ) = 140units

4-Bedroom ( 1,399 – 1,432 sqft ) = 35units

Penthouses ( 2,626 – 2,788 sqft ) = 4units




Developer
Capitaland
Development
TOP
Dec 2024
Tenure
99 Years
No. Of Units
799
Location
One Pearl Bank is a new development that is located right next to Outram MRT Station by Capitaland. One Pearl Bank sits on a prime piece of land that is located just minutes away from the Central Business District as well as Chinatown. The development sits on a mature estate where there are plenty of amenities and food choices available for residents of Pearl Bank.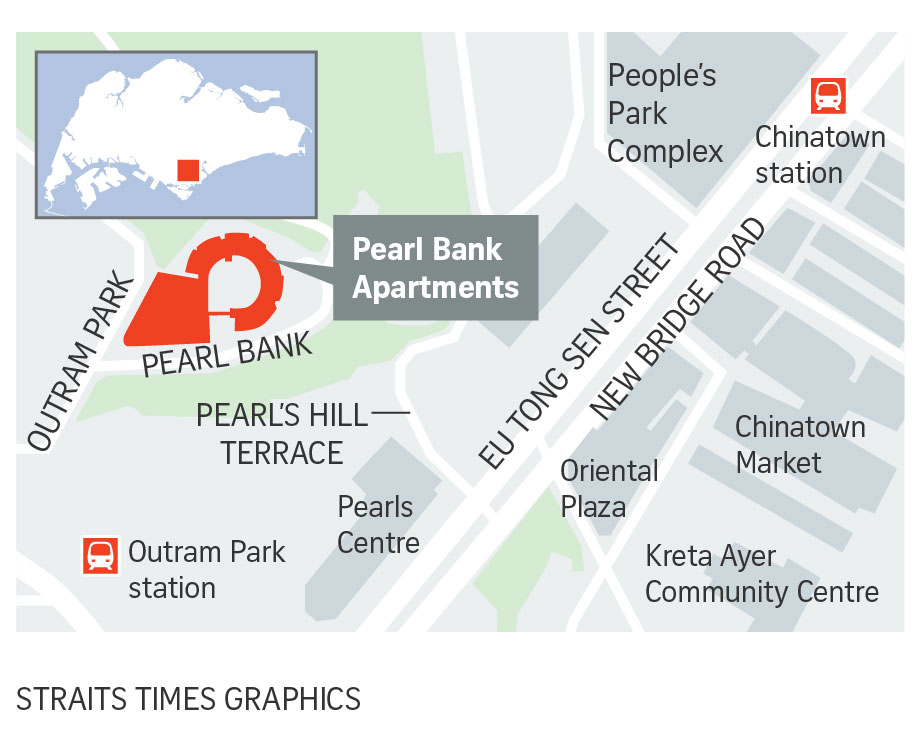 Bus Interchange & MRT Near One Pearl Bank

Shopping Mall Nearby One Pearl Bank Condo
People's Park Complex
People's Park Centre
Chinatown Complex
Furama City Centre
Schools Nearby One Pearl Bank
Zhangde Primary School
Gan Eng Seng School
River Valley Primary School
Outram Secondary School
One Pearl Bank Located at Outram MRT Station
One Pearl Bank is a property development that is located at Outram Park next to Outram MRT Station at the city Center. It is set to replace the iconic Pearl Bank apartments. The apartments were bought by CapitalLand for $728 million through a private treaty agreement on February 2018. The development will have two curved towers of 39 storeys. The building will have a height of 178 m once completed.
Tallest Residential Building at Outram MRT Station
One Pearl Bank will be one of the tallest residential towers in Singapore located at Outram MRT Station. The development will have 774 prime residential units once complete. The towers will be linked by sky bridges at the roof. They will also have a vertical sky allotment garden for urban farming. The estimated completion date will be in 2023. The development will offer an opportunity to own a prime apartment at the city centre.
Many other places of interest including Robertson Quay area as well as the Central Business District where plenty of retail and food choices are available are located in the vicinity of One Pearl Bank. Please see One Pearl Bank site plan and floor plans for more information.
Site Plans and Floor Plans
Register your interest for One Pearl Bank
Register your interest below for a VIP Pass to secure developer early bird discount